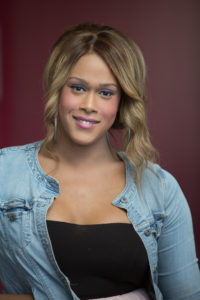 Groundbreaking performances by a transgender opera singer, gay ballroom champions, and a gender-bending boy band are all on tap for this year's Fresh Meat Festival.
The festival, taking place Thursday, June 18 through Saturday, June 20, features a lineup of some of the nation's history-making, trailblazing transgender and queer artists, said choreographer Sean Dorsey, a trans man who curates and produces the event, now in its 14th year.
"This year, we're presenting world-class artists who are trailblazers, pioneers, and on the cutting edge of American performance," Dorsey
said in a news release.
One of those artists is Breanna Sinclaire, who is the first transgender
woman to receive a master's degree in the opera program from the San
Francisco Conservatory of Music.
Sinclaire, 25, with a mezzo soprano voice, was a headliner at last year's
Trans March.
A native of Baltimore and a graduate of the esteemed Baltimore School
for the Arts, Sinclaire earned her bachelor's of fine arts degree at the
Herb Alpert School of Music at California Institute of the Arts in
Valencia, California, under the tutelage of Maria Fortuna Dean and
former Cirque du Soleil star Kate Conklin. At the San Francisco
Conservatory of Music, she studied under Ruby Pleasure.
Two years ago Sinclaire moved to San Francisco after receiving a
scholarship to the San Francisco Conservatory of Music. Living far
away from her family, she tries to keep in contact.
"I am still in touch with my family, but for them it's still a process. I
have not spoken to my father in six years. My mother and I are working
on our mother-daughter relationship. I got my SRS two months ago and
she is finally pulling through," Sinclaire said, referring to sexual
reassignment surgery.
Sinclaire has performed in Mozart's The Magic Flute , Ravel's L'enfant
et les sortileges , Rameau's Platee , Gershwin's Porgy and Bess , and
Bernstein's West Side Story . She has also been part of some special
projects in Los Angeles, at the Roy and Edna Disney CalArts Theatre
(Meredith Monk's Songs of Ascension) and at the Museum of
Contemporary Art (Zachary Sharrin's Time Bodies ).
She was most recently seen performing as Carmen in "Melons!
Coupons!" from Carmen.
Among many people who inspire her is Jessye Norman, the native
Georgian opera singer who gained fame for her roles in Aida and Les
Troyen and became one of the most popular opera singers in the world.
"Jessye Norman has the most incredible, unique sound," Sinclair said. "Her musicianship is on point and she is articulate and
educated."
Follow The Bay Area Reporter
Latest Blogs Two men robbed with guns in Castro incidents – 18 hours ago
Sinclaire said that she's looking forward to her upcoming performances.
"I am so honored to be one of the chosen performers for Fresh Meat Productions," she said. "Each