In its effort to continue engaging women of color to increase their
visibility as philanthropists in the LGBT movement, the National Center
for Lesbian Rights brought out the stars for a recent benefit.
The event, billed as "Music and Conversation with Sara Ramirez," drew
over 100 people to the San Francisco LGBT Community Center
Saturday, November 7 to support NCLR's Ruth Ellis Women of Color
Giving Circle. Ramirez, a straight ally, currently stars on the hit TV
show Grey's Anatomy . While on Broadway, she received a Tony Award
for her role as Lady of the Lake in Monty Python's Spamalot .
Also on stage that evening was Maya Jupiter, who co-founded Artivist
Entertainment, an entertainment company committed to creating and
supporting art and music that inspires positive social change, and
Cambalache, a Chicano-Jarocho group based in East Los Angeles.
"What I love about the NCLR is that it is all-inclusive," Ramirez said.
"When I look out and see the people who are involved with the NCLR, I
see a lot of different faces, I see a lot of people with lives, experiences,
backgrounds, cultures and colors, and I want to see more of that. They
help hundreds of individuals with their work in immigration and their
work with LGBTQ youth, and I'm very interested in all of these
intersections between all of these communities, for obvious reasons,
because a lot of these communities resonate with me."
Longtime NCLR Executive Director Kate Kendell, who has been at the
nonprofit for 21 years and headed it for 20, said that the fundraiser was
focused on elevating the voices of lesbians of color and gay men of
color within the organization.
"This is really is Ramirez's vision," Kendell said, "to come together and
do an event to benefit LGBT people of color within LGBT
organizations, in this case NCLR."
According to Kendell there was no specific financial goal for the
fundraising event.
"We really didn't set a financial goal," she said. "The goal is for people
to be better connected with the organization. Particularly for men and
women of color to see the work of NCLR as being work that is focused
on the LGBT community, but with a racial justice analysis and framing,
and to have people commit at whatever level they can to support that
work." A spokesman said the event raised $11,000.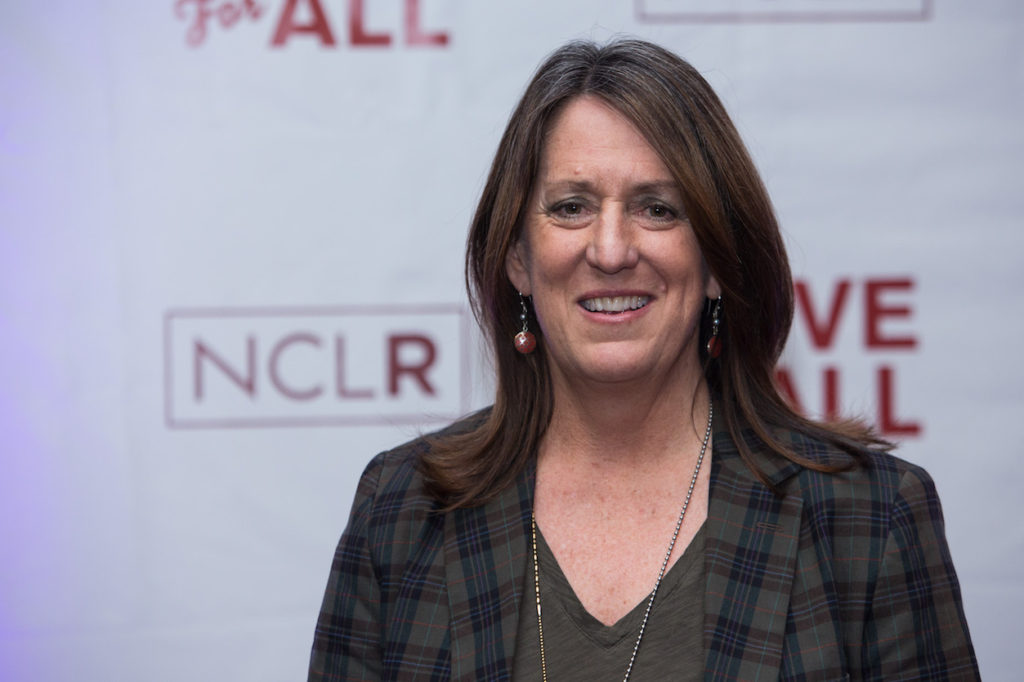 Kendell said that the most challenging issue is one that has been a
constant, which is families rejecting their own kids for being gay.
"Being rejected by families is such a common experience, no matter
what is your ethnicity," Kendell said. "By empowering LGBT people to feel good about themselves, ending shame, ending
stigma, and really making folks be responsible for their own future, regardless of family rejection, you can set yourself on a path
where you can be the agent of your own destiny."
Kendell acknowledged that it is hard to overcome family rejection.
"If you experience family rejection, or if you have been a victim of conversion therapy, where our families try to crush who we
are as LGBT people, that challenge continues, even with all the victories we have had," she said.
According to Kendell there is a long way to go for LGBT people to gain equal human rights in the U.S.; marriage equality didn't
end the fight for equality.
"What we succeeded in doing with marriage equality is that the government is no longer an agent in our discrimination, but the
culture is," Kendell said. "Families are, neighbors are, churches are, and communities are."
Kendell pointed out various issues that still affect the community.
"LGBT people may be able to get married, but can still be fired from their jobs for being gay; can get married, but can still be
rejected by their families; can get married but still can't adopt," Kendall said, referring to laws in many other states. "So we have
succeeded in that the government is no longer really putting its thumb on the scale around our equality. But we have a way to go
in order for us to have an equality of life, where we feel free and we feel any opportunity is ours, and we are not hampered based
on our sexual orientation or gender identity. We are a long way from that moment."