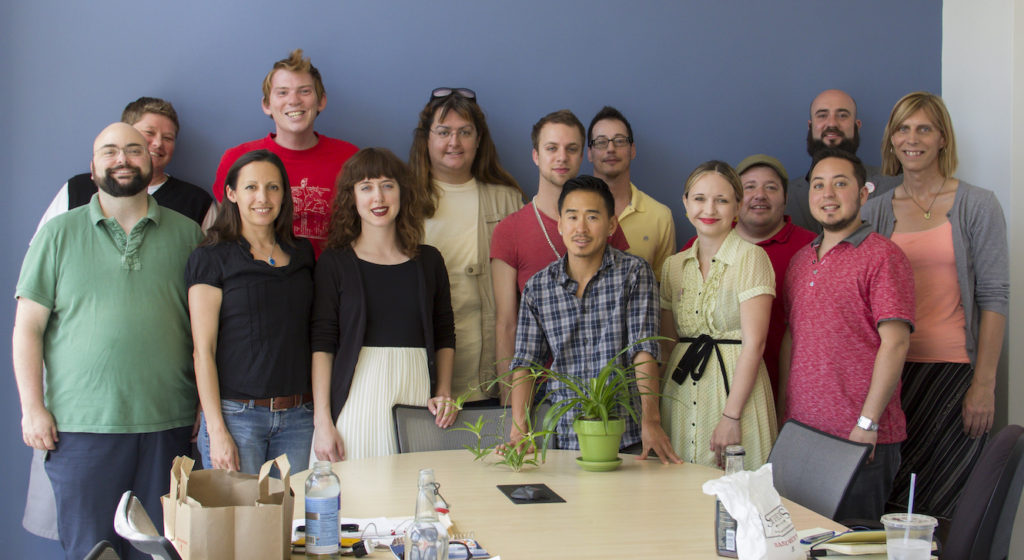 Community nonprofits looking to raise funds will be participating in the
second annual Give OUT Day next week, and local LGBT
organizations are among those taking part in the nationwide effort.
This year's Give OUT Day is Thursday, May 15. The national initiative
is intended to engage hundreds of organizations and mobilize thousands
of people on a single day across the country to give in support of the
LGBT community.
Founded last year, Give OUT Day invites donors to contribute to their
chosen charities starting at 9 p.m. May 14, Pacific Time (midnight on
the East Coast) through 8:59 p.m. (Pacific Time) May 15 through the
website www.GiveOutDay.org.
Give OUT Day was started by Bolder Giving, a New York-based
nonprofit that works to inspire people to give. It is powered by Razoo,
the leading online donation platform.
Bolder Giving Executive Director Jason Franklin hopes this year's
donation day can raise more than $1 million total. Last year's inaugural
event brought in $600,000.
Many LGBT organizations that participate use social media to reach out
to their fans and supporters to donate for their cause. The participating
organizations have a donation button on their sites. To donate you just
click the button and give your donation information. The minimum
donation starts at $10, and there is no maximum limit.
Four hundred organizations nationwide participated last year. The
participating organization that raised the most money was the
Transgender Law Center based in Oakland. It raised $28,000 total –
$17,000 in individual donations and $11,000 in prize grants on Give
OUT Day.
According to the TLC website, the organization "works to change law,
policy, and attitudes so that all people can live safely, authentically, and
free from discrimination regardless of their gender identity or
expression. They envision a future where gender self-determination and authentic expression are seen as basic rights and matters
of common human dignity."
TLC officials were extremely pleased with last year's success on Give OUT Day, especially since it is not a large organization.
"We're certainly not the largest, nor the most resourced – so it still feels a little like a David and Goliath situation," said Shawn
Demmons, TLC's board vice chair. "To be honest though, I hope even more organizations participate. The whole point is to increase giving to LGBTQ causes and we're all in this together. Look at what's possible when we come together for a common purpose – last year, Give OUT Day generated over $600,000 on a single day. That's huge!"
Of the 400 LGBT organizations in 50 states that participated in Give OUT Day last year, more than 40 were in the Bay Area alone. This year, 54 Bay Area groups have registered and 487 groups have signed up nationwide. It's a chance for LGBT groups,
Latest Blogs Transit planners eye five Castro locations for SF Bike Share pods – 01 May 2014 large and small, to work across the wide range of issues and activities that matter to the LGBT community from sports to workplace policy change, families to the arts.
Kris Hayashi, deputy director of TLC, said, "The funds we raised last year helped us to hire a new staff attorney, expand our legal services, and better serve over 2,200 people in 2013 with direct legal information, advocacy or representation." Hayashi added, "At the time, we weren't anticipating being able to do that." This year, TLC is providing its supporters with skills-development and information about how they can support TLC by fundraising.
"For example, we sent about 3,000 households a how-to guide explaining how to create a fundraising project in Razoo.com," Demmons said. "Our top priority is engaging our base and preparing them to fully participate."
He added, "For many of us, philanthropy feels like a distant or inaccessible form of activism to support the causes we believe in.
But, it doesn't have to be that way. Give OUT Day is a great example."
The top three groups receiving gifts will also receive additional cash prizes, as will the top three groups in each of eight
states/regions with prize boards: Minnesota, Oregon, Arizona, South Florida, the Bay Area (two boards), New York City, the
Pacific Northwest, and the U.S. South.
Horizons Foundation, a community-based philanthropic nonprofit in San Francisco, is sponsoring two of the nine prize boards.
"Give OUT Day empowers both longtime and newer donors to support causes they care about," Horizons Executive Director
Roger Doughty said in a statement.